HOW to be a SucCessful Trader
We have discovered through many years of experience that the trade process and trading experience work better when the following five habits are adhered to. Like any other business practice attention to detail, service level and quality products combine to make successful trading.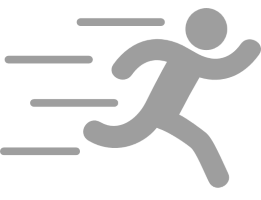 1. Be Quick
While you must be willing to wait, you must also move quickly when something comes along that is not normally available on trade. Desirable and attractive high-ticket items such as computers, laptops and vehicles are usually sold on the same day they are offered. Those who do not respond quickly are often left sitting on the sidelines.
2. Be Flexible

GETS Trading will not always deliver exactly what you want. You must be willing to change vendors, try new ways to promote your business, or perhaps look into different options. Thus, trade will not only work for you but it will probably also make life more interesting and adventurous.

3. Think Trade

In the normal, every-day world you are always thinking about how you are going to increase sales to pull in more cash. In the GETS Trading world the sell-side is easy. Now you need to expend the same kind of time and energy on how to use your Trade Credits. You must think GETS Trading before spending cash. You must think GETS Trading all the time

4. Be Creative

Creativity means you must be willing to look beyond the obvious. You must see new ways of doing things. Where you only gave cash bonuses to employees, you might find that trade can be an even more powerful motivation tool. Using Trade Credits to settle debt, close sales, or contribute to charity are just a few of the creative applications of GETS Trading.

5. Be Patient

With GETS Trading, good things come to those who are willing to wait. Ask us and we will try to find what you need. We will, with your help contact your referrals to become new members of GETS Trading to fulfuil your needs. Nine times out of ten we will get you what you want, but you may have to wait.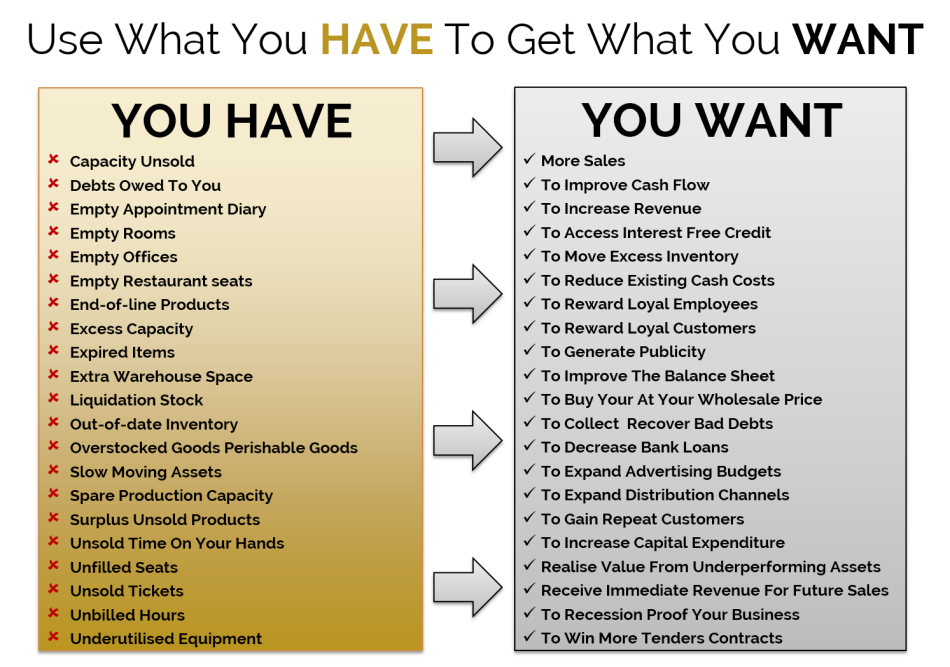 ImprovING Cash Flow
How GETS Trading Improves Your Cash Flow see calculator below


There are two main ways to increase cash flow - more sales and reduced cash outlay. GETS Trading does both!
GETS Trading allows you to pay with what your HAVE for what you WANT - thus allowing you to preserve working capital for other needs.
When you use Trade Credits instead of cash to purchase needed goods and services - you reduce your cash outlay by paying for them with new revenue generated from marginal sales. . . sales that probably would not have happened without GETS Trading.
GETS Trading Means Wholesale Buying Power
see calculator below
With GETS Trading, the real cost of the goods or services you purchase is actually the wholesale cost of your goods sold which naturally gives you a discount.
Making sales with built-in profits makes the cost of your purchases more economical.
When you join GETS Trading, you open the door to a new, cash saving means of handling everyday business and personal expenses.
USE Your Own Currency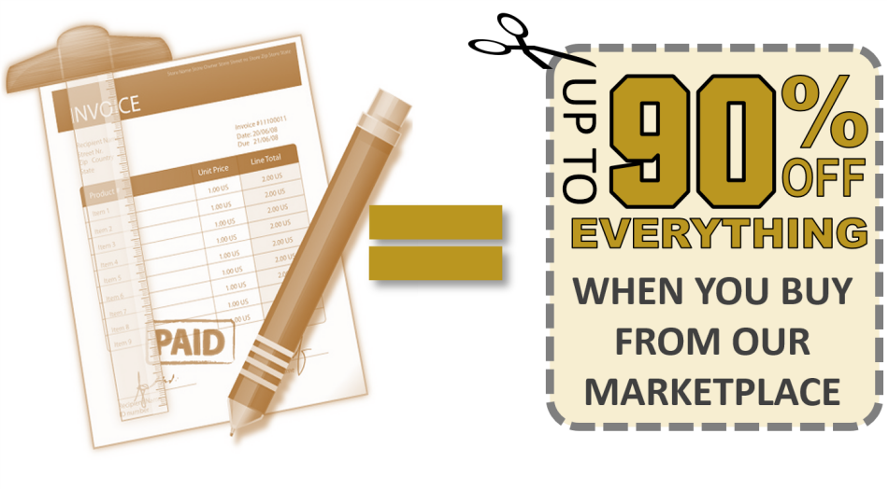 Every invoice you issue though GETS Trading represents new revenue from a Marginal Sale,
Because this new revenue has been created at your wholesale costs.

Cash-FLOW Savings CALCULATOR
Ways to Use Trade Credits

During our years of trading experience we have put together GETS Trading trading tips that you may find useful to help you trade more successfully. We suggest you combine these with our five habits of the successful trader to help increase your competitive edge and enhance your trading experience.

1. Pay with Trade Credits

2. Collect Receivables with Trade Credits

When a vendor outside GETS Trading tries to sell you some thing you want, offer to pay for it in trade credits. Feel free to negotiate full or partial trade payments with anyone pursuing your business.

If a business does not have trade credits with which to pay you, we may be willing to accept their products & services so that you can be paid.

3. Win New Clients Sell for Trade Credits

4. Pay Creditors with Trade Credits

When a prospective client outside GETS Trading will not buy your product or service, and you really want the business, offer to sell it for trade credits. If your prospective client does not have an account, we'll set it up so you can make your sale.

When you are short on cash, GETS Trading will be happy to open an account with one of your creditors so you can settle all or a portion of your debt with Trade Credits.

5. Pay employee bonuses with Trade Credits

6. Travel on Trade Credits

Many of our clients use Trade Credits to reduce payroll or to flesh out a bonus program. Our web site offers countless ways for your employees to spend their trade credits.

Use the travel department for business travel and personal holidays. GETS Trading has a large selection of hotels, resorts, cruises, and other travel opportunities available from around the world.

7. Use Sub Account Contracts

8. Advertise with Trade Credits

Help set up accounts for family, employees, and vendors paying trade to accounts is as easy as writing a cheque. The only difference is you don't spend any cash.
Use the media department to convert your Trade Credits into cash customers. One of the best ways to spend your trade is in advertising that can help your business grow.

9. Donate Trade Credits to Charity

10. Use the Client Referral Program

Donate Trade Credits to your favourite charity. Simply tell your coordinator to whom you would like to donate credits, and we will see that it is done. We'll also help the charity spend those Trade Credits on things it needs.
GETS Trading operates a highly successful client referral program. Give your coordinator referrals to those businesses that could benefit you and the other members.
DUAL-CURRENCY TRANSACTIONS
GETS Trading allows Members with positive trade balances to accept a blend of Cash (£GBP) and Trade Credits, our members are less likely to become overloaded with Trade Credits at the cost of their cash flow.
GETS Trading recommends that Members take cash for the raw cost, which is the cash they would pay out to replace the stock sold or purchased, and then take trade credits for the balance, which is the marginal cost of sale, keeping prices the same as for cash only transactions.
Because cash has been paid for the raw cost of this new business, there is no actual cost to do the extra business that would come through GETS Trading membership. This extra business is over and above existing sales volume (turnover), and is business that would not otherwise have been generated if they had not joined the Exchange. All fixed costs and overheads are covered by existing turnover.
So, this produces the perfect trading alternative whereby businesses not only conserve cash from existing customers, but also increase their cash flow through new business, and they have generated trade income from the profit on business they would otherwise never have had, the actual cost of Trade Credits to them is ZERO.
The Exceptions
There are exceptions on the blend of Cash & Trade rule this is where members who have a Trade Credit Line and a negative balance are required to repay on 100% Trade whether they are selling Hard or Soft Goods.
FAIR TRADE BLENDS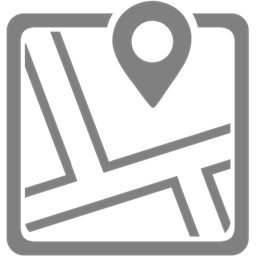 Fair Trading Policy
ALL Marketplace Items that have a dual currency price Cash/ Trade Credits blend MUST be the same as your normal pubished or listed CASH Price.
It should be noted that in order to build repeat business and ongoing relationships within GETS Trading, there has to be a mutual fairness between clients. Categorising Soft Goods as 100% and Hard Goods as part cash part Trade Credits is a good rule to follow. It's all about negotiation and the actual nature of the goods traded.
Example
If a hotelier wanted to sell a room night (soft good) priced at £100.00 on 50% cash and 50% Trade Credits that would NOT be acceptable. However, if the hotelier wanted to sell a conference priced at £100,000.00 on 30% cash and 70% Trade Credits this would be acceptable as there would be cash costs involved.